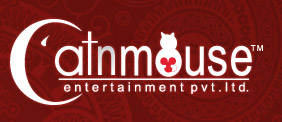 About Us
Cat N Mouse Entertainment Private Limited is an Independent Production House based in Mumbai. It was established in 2009 with the sole thought of uniting experience, talent and hard work to create dynamic and impactful projects, be it Motion Pictures, TV Commercials, Documentaries or Television Software. It is a developing company with great potential to be an important part of the fast growing entertainment Industry.
OBJECTIVE
Bollywood, being the second largest film industry has made many dreams come true, many stars shine and has also won millions of hearts. Even one dream coming true gives hope to million others but unfortunately, more often than not the shine fades away - even the talent is slowly forgotten as there is less consistency. Cat N Mouse is making an effort bring a change in that. It has the vision to become an organization that will be an integral part of this Industry in the long run continuing to create opportunities.
Cat N Mouse aims to be synonymous with both creation and consistency. The company is keen to not only produce the projects independently but also to cover risks and to create more opportunities and content by collaborating with likeminded partners to reach the goal of becoming one of the leading content providers in the entertainment industry.
Cat N Mouse - In House Production / Projects
Cat N Mouse co-produced its first feature titled 'Michael' in association with Anurag Kashyap Films and is Presented by Viacom 18/Tipping Point Films. Directed by Ribhu Dasgupta, the film's cast includes the great Naseeruddin Shah, Mahie Gill, Sabyasachi Chakrabarty, Irawati Harshe, Purav Bhandare & Others.
Michael has been selected for and screened at various film festivals like TORONTO INTERNATIONAL FILM FESTIVAL (TIFF) 2011, at the 14th LONDON ASIAN FILM FESTIVAL 2012, at the INDIAN FILM FESTIVAL MELBOURNE 2012 and also at the 15th SHANGHAI INTERNATIONAL FILM FESTIVAL (SIFF) 2012. It is slated to release in the winters - 2012.
Cat N Mouse presented a marathi film titled - Kon Aahe Re Tikade", Directed by Tanaji Ghadge, Starring Mohan Agashe, Subodh Bhave, Hemangi Kavi, Mohan Joshi, Mangesh Desai, Suhas Paranjpe and others. It was released in May 2010.
Currently "The Maya Tape", Written and Directed by Nikhil Anil Allug - is in post-production stage. The film Stars Nawazuddin Siddiqui, Vishakha Singh, Kali Prasad Mukherjee, Shridhar Watsar, Satya & Others.